FREE OVERNIGHT SHIPPING📦😍
California Grown Caviar Limes
Finger Limes: Exquisite Citrus Caviar Bursting with Flavor
Finger limes, also known as caviar limes or citrus caviar, are a captivating variety of citrus fruit that delight the senses with their unique appearance, vibrant flavor, and delightful burst of juice. Their slender, elongated shape and translucent, pearl-like vesicles have earned them the moniker "caviar limes," as their texture and appearance resemble caviar beads. Native to Australia, these finger-sized citrus gems have gained popularity among food enthusiasts and chefs worldwide for their exceptional culinary potential.
Flavor and Usage: When you indulge in finger limes, you'll experience an explosion of flavor that combines the zesty brightness of traditional citrus with a tantalizing hint of tanginess. The tiny, juice-filled beads burst upon contact with your palate, releasing their intense citrusy goodness. Their taste is often described as a harmonious blend of traditional lime notes with subtle floral undertones, making them a remarkable addition to both sweet and savory dishes.
These citrus caviar pearls can elevate a wide range of culinary creations, from cocktails and seafood dishes to salads, desserts, and even garnishes. Their unique texture and vibrant flavor make them a versatile ingredient for those looking to add an innovative touch to their culinary endeavors.
When to Eat: Finger limes are generally in season during the cooler months, usually from late autumn through winter and into early spring. This is when they are at their peak freshness and flavor. Depending on your location, availability may vary, so it's advisable to check with local markets or specialty stores.
How to Eat:
Harvesting the Caviar: Gently cut the finger lime lengthwise or make a small crosswise incision at the top. Carefully squeeze the fruit, and the delicate citrus caviar will spill out in tiny, bead-like sacs.

Culinary Creativity: The caviar-like beads can be sprinkled over dishes to add bursts of flavor and visual appeal. Use them as a topping for oysters, sushi, ceviche, salads, yogurt, or ice cream.

Cocktail Artistry: Finger limes are perfect for crafting unique cocktails. Drop a few beads into your favorite mixed drinks to add a zesty and visually striking element.
How to Store: To preserve the freshness and flavor of finger limes:
Store them in the refrigerator's crisper drawer, where they can remain fresh for up to 2-3 weeks.
If you want to extend their shelf life, you can freeze the citrus caviar in an airtight container. Frozen finger lime beads can be used directly from the freezer in drinks and dishes.
Indulge in the culinary magic of finger limes to transform your dishes into artistic creations bursting with flavor. These miniature citrus caviar pearls are a testament to nature's ability to surprise and delight with its diverse bounty.
THIS PRODUCT SHIPS VIA: FEDEX OVERNIGHT
(OVERNIGHT SHIPPING DOES NOT MEAN YOUR PRODUCT SHIPS NEXT MORNING! YOUR ORDER WILL TAKE 1-2 DAYS TO PROCESS)
**ONLINE PRICES MAY DIFFER THAN STORE PRICES**
WE DO NOT SHIP TO P.O ADDRESSES WITHIN THE U.S., U.S. TERRITORIES, AND APO/FPO/DPO ADDRESSES.
PLEASE TRY AND BE HOME ON DAY OF DELIVERY PROVIDED BY TRACKING: WE WILL NOT BE RESPOINSIBLE FOR FRUIT LEFT ON PORCH/MAILBOX OR RETURNED ITEMS BACK TO POST OFFICE.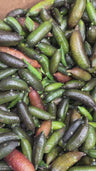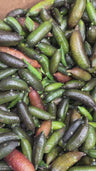 California Grown Caviar Limes